Earn a Net Salary of 100K with this Road Surveyor Job. Tag a road surveyor and ask them to apply here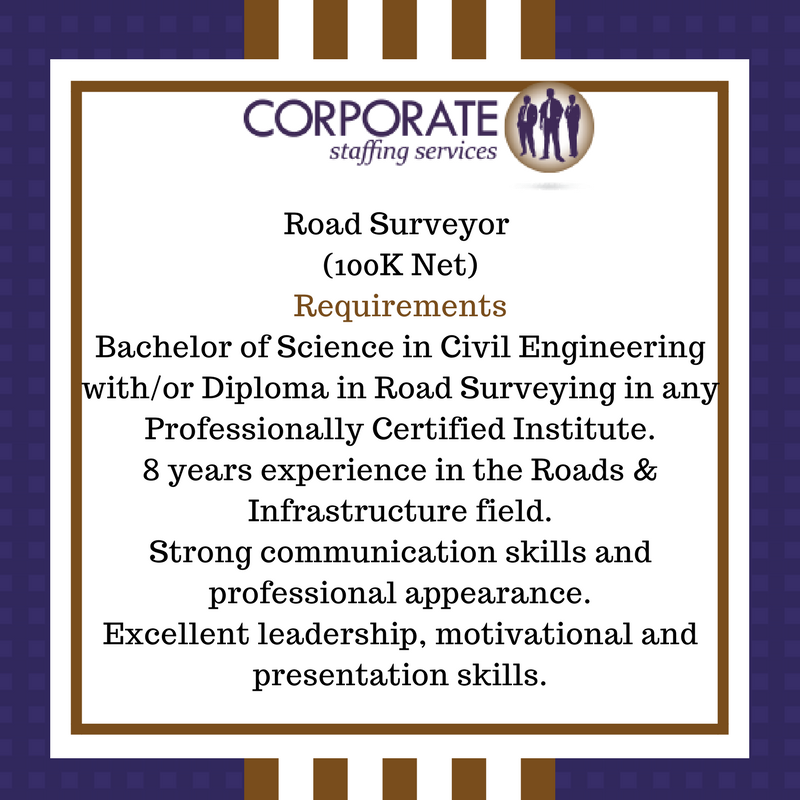 Road Surveyor Job Responsibilities
Produce road layouts using surveying instruments and tools.
Establish lines and grades within the construction site by performing construction surveys.
Perform daily record keeping of work performed on a daily basis and share the records with the Projects Department.
Provide topographic surveys of construction site areas.
Review construction design to ensure proper quantities, dimensions, and overall completeness.
Provide calculations and records in support of all survey activities.
Lead others in the survey work and make survey computations.
Carry out inspections to ensure that proper compliance with construction specifications is adhered to.
Qualifications for the Road Surveyor Job
Bachelor of Science in Civil Engineering with/or Diploma in Road Surveying in any Professionally Certified Institute.
8 years experience in the Roads & Infrastructure field.
Good written and Oral skills.
Computer literate.
Strong communication skills and professional appearance.
Excellent leadership, motivational and presentation skills.
Works well under pressure and able to be up to the deadlines.
How to Apply
If you are up to the challenge, possess the necessary qualification and experience; please send your CV only quoting the job title on the email subject (Road Surveyor) to [email protected]e before 3rd October 2017. Kindly indicate current/last salary on your CV
N.B: We do not charge any fee for receiving your CV or for interviewing. Only candidates short-listed for interview will be contacted