Nairobi County Government is massively hiring and looking to fill over 1000 vacancies.
Residents of Nairobi are highly encouraged to apply.
Similarly, youths living in Nairobi have been argued to apply
Apply Via http://cpsb.Nairobi.go.ke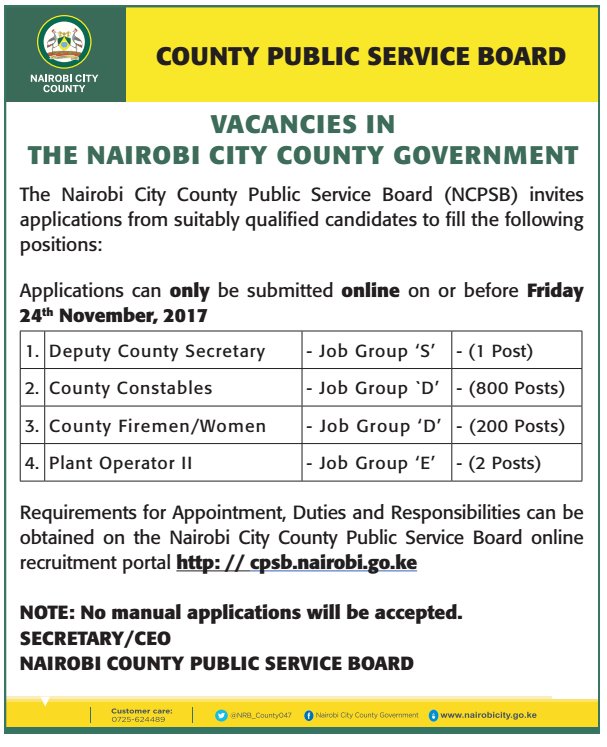 NAIROBI COUNTY FIREMEN/WOMEN -JOB GROUP D(200 POSTS)
Application Deadline: Fri 24th Nov 2017
remuneration
Salary Scale: Kshs 13,510.00 to Kshs 15,030.00
House Allowance: Kshs 4,125.00
Commuter Allowance: Kshs 3,000.00
Job Description
Performing specialized functions in preparing and responding to fire/emergency calls in order to ensure loss of life, property or injury as a result of fire is prevented and/or minimized.
Responding to emergency calls; laying and connecting hose; holding nozzles and directing water streams; raising and climbing ladders; using extinguishers and other equipment.
Assisting in rescue operations during emergencies.
Operating appliances and communication equipment. .
Maintenance of equipment in good repair in accordance with county policies and procedures
Job Qualifications
KCSE Grade D+ (Plus) or its equivalent with relevant qualifications from a reputable fire training school.
Be aged between 18 and 28 years for holders of KCSE Examination Certificate or its equivalent, and up to 30 years for diploma holders.
Physically and medically fit;
Have no criminal record or pending criminal charges.
Female Candidates must not be pregnant at the recruitment stage and during the training period.
cpsb.nairobi.go.ke
cpsb.nairobi.go.ke