Journalism Traineeship available with German Broadcaster DW. Either Journalism experience required, or passionate in IT, Tech, Economics or Sciences.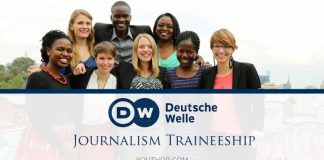 DW journalism traineeship
• 18 months
• trainee salary
• international broadcaster in 30 languages
• crossmedia: TV, online and radio
• six months of seminar blocks
• internships in Berlin and Bonn
• placement with DW foreign bureau
• international multimedia projects
• well-known media trainers
Qualification
or the bilingual DW traineeship we are looking for: 
• English native speakers with a good working knowledge of German
OR
• German native speakers with an excellent working knowledge of English
OR
• Native speakers of another DW program language (specifically Turkish, Russian, Farsi, Kiswahili and Hausa) with a good, working knowledge of both English and German.
Candidates must also have completed a university or college degree or apprenticeship.
Trainee salary of 1,600 Euro/month. Deadline Jan 29th 2018 |
Apply
https://bewerberoffice.dw.com/dwextern/
http://www.dw.com/en/dw-akademie/traineeship/s-12130 …